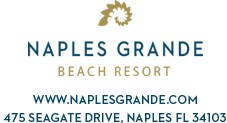 Naples Grande Beach Resort is one of the most exciting resorts in Florida.  Set on 23 waterfront acres, the resort promises to be a sanctuary of beachfront sophistication complemented by spectacular ocean views and a portfolio of world-class amenities, including a luxurious spa, an 18-hole championship golf course, 15 tournament grade tennis courts as well as a beautiful beach and a vibrant swimming pool deck at the heart of the resort experience.
Naples Grande Beach Resort invites you to experience our unmatched level of genuine guest service and attention to every detail of your stay. Explore our warm beach property and indulge in an inclusive getaway full of leisure, with a wide variety of activities, events, recreation and relaxation - there is something for everyone! Sunbathe on our sugar-sand beaches along the Gulf of Mexico, make a splash in one of three resort-style pools, indulge in seven unique dining options, hit the links at our private golf course or treat yourself at our luxury Naples day spa. Rest easy knowing that whatever you choose to do on your vacation, you can end the evening in one of our spacious guestrooms or suites with stunning water views and coastal breezes.
Current job openings at Naples Grande Beach Resort
Currently this employer doesn't have any openings.