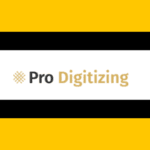 As a result, following your instructions is very beneficial to us. Under duress, we have the capacity to work fast and efficiently. We can monitor the caliber of the personalised embroidery digitizing as they are being made. This way, we can be assured that you'll love your patches and that your order will arrive when we said it would.
Current job openings at Embroidery Digitizing
Currently this employer doesn't have any openings.