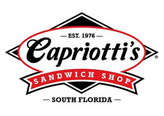 About Capriotti's
Capriotti's has been doing it our way since 1976, preparing award-winning sub sandwiches made in-house, to order with homemade ingredients. We take the time to roast whole, all-natural turkeys and roast beef in-house.
Our cold, grilled and vegetarian subs, cheese steaks and salads are available at more than 110 company-owned and franchise locations in fifteen states across the U.S.
Current job openings at Capriotti's
Currently this employer doesn't have any openings.