Location

1160 Gulf Blvd, Clearwater Beach, Florida

Date Posted

August 26, 2021

Category

Hotel



Job Type

Full-time



Description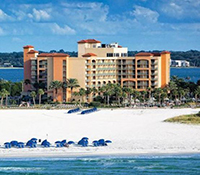 Job Functions:
Maintain individual bank and correct account of monies. Have your money counted and organized prior to going to your station. Obtain change and paid outs when necessary.
Greet guests with a smile and a warm and a welcoming manner.
Guest registration: properly register all guests in Lightspeed in an efficient and friendly manner while obtaining appropriate credit information. Have guest thoroughly complete registration card including their home address. Obtain payment by cash, check or credit card and process accordingly.
Guest check out: process all guest accounts in accordance with accurate accounting procedures.
Use "The Welcome" process and "The Farewell" process when checking guests in or out.
Assign appropriate room for arriving guests and handle room changes as necessary.
Adhere to all rate and status controls and up-sell when possible.
Coordinate VIP and SPG reservations by having rooms pre-blocked.
Pre-register VP1 and VP2.
Answer telephone before three rings and assist caller or transfer to the correct department for assistance.
Complete high balance bucket check, missing address, room change reports and any other audits assigned by shift supervisor.
Make copies and send/receive faxes for guests as needed and charge according to front office guidelines.
Receive mail and packages for guests: log them in and leave message for guest on their voice mail that they have a fax, mail or package to pick up.
Maintain knowledge of ADA guidelines and appropriate responses to disabled guests.
Maintain knowledge of emergency related procedures and security precautions.
Assist with issue and control of safety deposit boxes.
Maintain a clean and organized workstation. Ensure it is properly stocked at all times.
Daily post to correct accounts including charges for banquets, beach services, copies, credits, faxes, movies and printing.
Convert foreign to U.S. dollars using the latest conversion figures. A maximum of $100 S. may be converted per room daily. Calculate converted amounts and complete transaction form and have guest sign and date upon receipt of exchange.
Cash travelers' checks up to $100 per day per room. Make sure that the check is properly completed prior to cashing. Mark the room number on the check and stamp "For Deposit Only" on the backside of check.
Cash personal checks up to $50 per day per room. Proper identification and verification of funds is required prior to cashing.
Coordinate any special guest request to appropriate department.
Perform various other duties as assigned in a professional and timely manner.
Facemask required for all associates working inside.